I am decorating my kitchen in a bee theme this summer and I have been trying to create some decorative bee items to decorate with.  I came across small rolling pins at Hobby Lobby and I knew I could decorate them in a bee theme.  After I finished them I had to go back and buy a few more I want to decorate them for the Fourth of July.  How cute will they look on a tiered tray or added to a display on your kitchen table as I did in the photo above.
Materials You Will Need
1 Package of 6.77" x 1.06"  Rolling Pins (Hobby Lobby item #828707)
Your Choice of Craft Paint Colors
Fabric of Choice
Ribbon
Painters Tape
Paintbrushes
Elmer's Glue
Rub On or Sticker Letters
Pencil
Ruler
Scissors
Painting
The first thing you will need to do is give the rolling pins a good sanding. Cover the side handles with painters tape. Paint the rolling pin. Let dry. Give the rolling pin another coat of paint and let dry. Add as many coats of paint you think it takes to cover the rolling pin. Once dry remove the tape. You can now paint the handles or leave them unpainted I will leave this part up to you.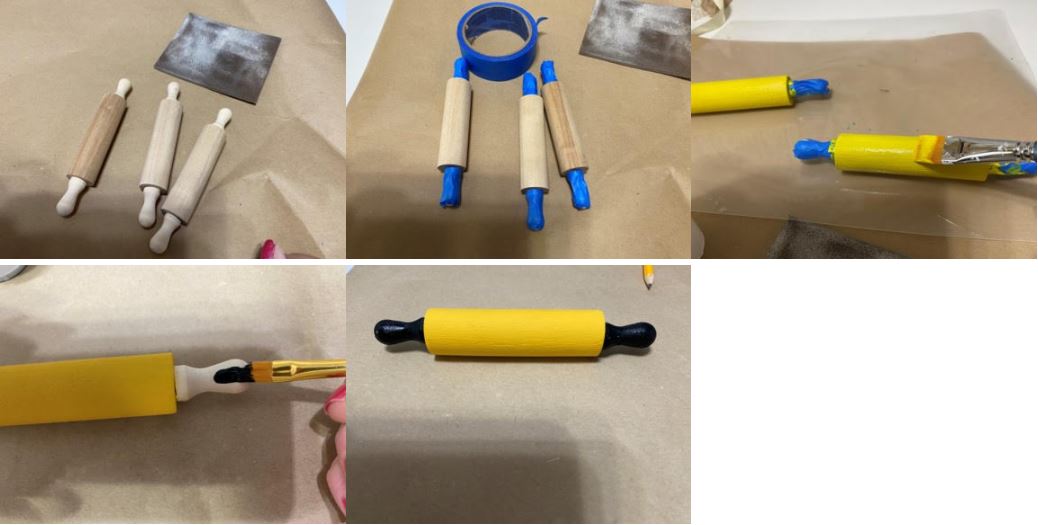 Covering With Fabric
If you would like to paint the handles you will need to do this before covering the rolling pin with fabric. Make sure you also paint the sides of the rolling pin. Cut a 4" x 4" piece of fabric. Brush on Elmer's glue covering the whole rolling pin. Lay one end of the fabric onto the rolling pin gluing down and making sure it is straight. Continue attaching the fabric around the rolling pin. When you reach the end add more glue on the backside of the fabric and glue the end down.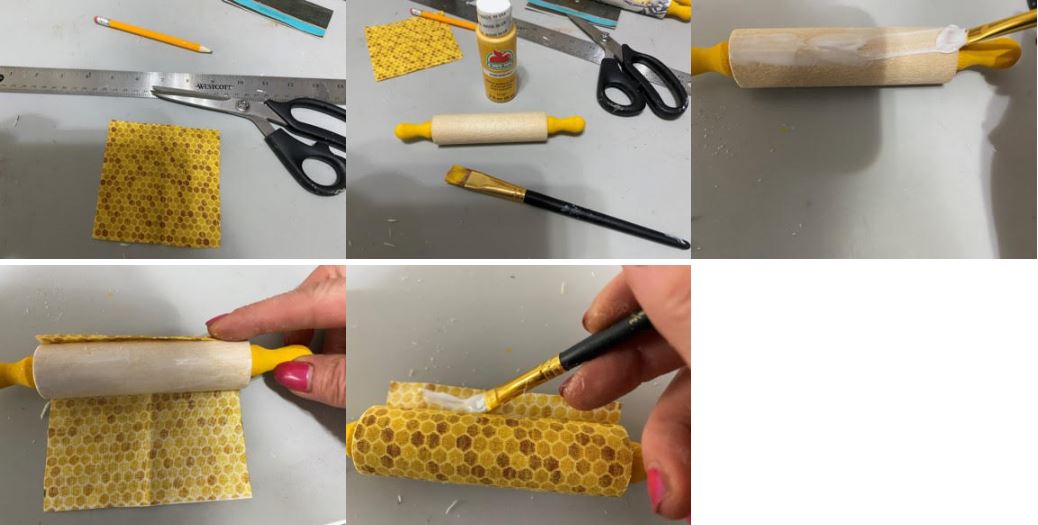 Adding Embellishments
You can add any embellishments you would like. I used sticker letters to put the word honey on one of my rolling pins. I also added a bumble bee embellishment. On the fabric rolling pin I added ribbons.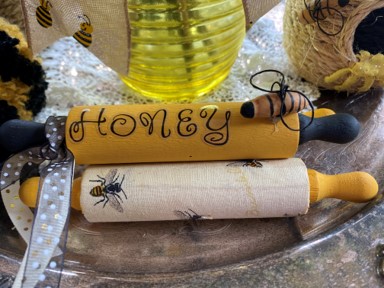 The fun thing about making these rolling pins is you can cover them to match your décor and for any holiday. I will be making these adorable rolling pins for each holiday. I hope you enjoy making them to match your décor.