I was shopping in Joann's and I came across this unfinished mini wood recipe holder and as soon as I seen it I knew I wanted it to hold my phone. If you are like me I am always pulling up recipes on my phone so my phone is always laying on the counter while I am cooking so I can read the recipe. Now I will be able to set phone on this adorable holder to see my recipe while I am cooking. I just love how it turned out.
Supplies You Will Need
Paulownia Wood Mini Recipe Holder (Joann's item #1624-9757)
Waverly Antiquing Wax (Walmart)
Cutout From A Napkin or Paper
Mod Podge
Paintbrush's
Sandpaper
Rubber Gloves
Paper Towel
Sanding And Staining
The first you will need to do is untie and remove the jute hanger. Save this you will be adding it back on at the end of the project. Give the mini holder a good sanding. To stain the holder I used Waverly Wax in Antique. Before you begin staining you will want to put on rubber gloves so you don't get the stain all over your hands. Brush a section at a time with the antiquing wax then wipe off with paper towel. Continue staining and wiping until you have done the whole holder.

Adding The Decorative Cutout
I used a cutout from a napkin but you can use any cutout you would like to decoupage onto the board. Cut out the design you would like to use. If you are using a napkin make sure you remove the one or two layers of napkin from the back of your cutout. Place where you would like it on the holder. Lifting a section of the cutout at a time brush some mod podge on the wood where the cutout will be attached. Lay the cutout back down carefully rubbing out any air bubbles or wrinkles. Continue lifting a section at a time adding the mod podge and attaching the cutout to the board until you have attached all of the cutout to the board. Carefully apply a coat of the mod podge to the top of the design. Let Dry. You can now reattach the jute hanger.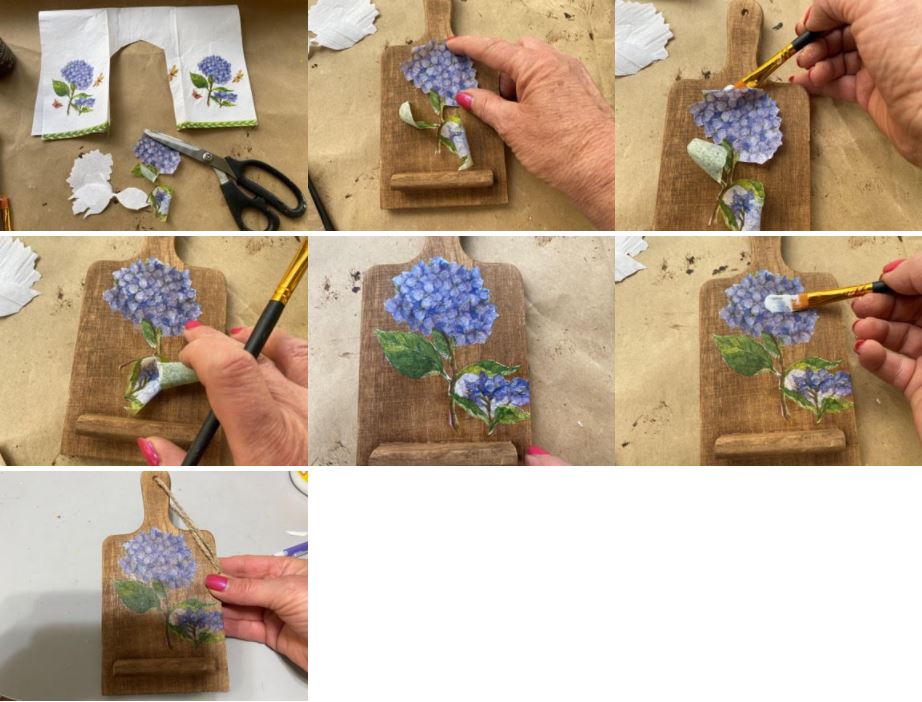 Your mini cutting board phone holder is now all ready for your phone. I hope you have enjoyed making the phone holder and using it. This will make such a cute addition to your kitchen.