I have seen a wall pocket vase just like this in one of my magazines and it just so happens I had picked up a few metal wall pocket vases at Dollar Tree so I knew exactly what to do with them. I even had the paints on hand so I was already to get started! I just love how they turned out.
Materials I Used:
Metal Floral Garden Wall Vase from Dollar Tree
Rust-Oleum Matte Hammered Copper spray paint
Deco Art Acrylic paint in the color Hauser Light Green
Rust-Oleum matte clear spray sealer
Small sponge, I used a small piece of sea sponge
Artificial greens or florals
Wire cutters
Paper plate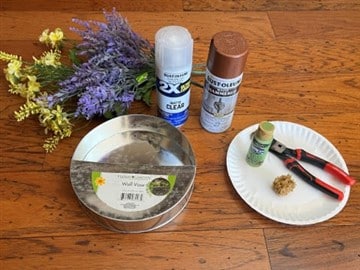 Painting the Wall Vase
The first thing you will need to do is remove the stickers, you may need a little goo be gone. Remove the jute hanger and save to reattach later.  Next in a well ventilated area using the Rust-Oleum matte Hammered copper paint spray the back of the metal wall vase first, let dry then add a second coat.  Turn the vase over and the sides, front, and the inside of the vase where you are able to see.  Let dry then do a second coat.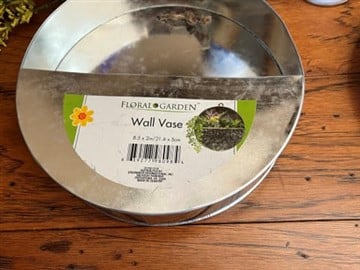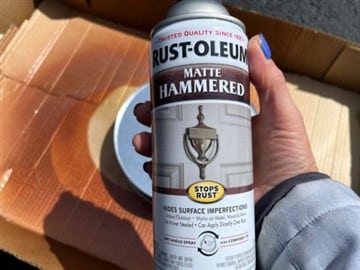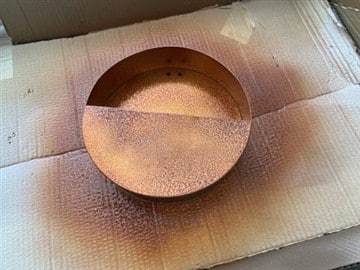 Adding the Patina and Sealer
After letting the vase dry you are now going to add the patina.  Squirt a small amount of the Deco Art Hauser Light Green paint onto a paper plate dip your sponge into the paint then blot onto the plate, it is easier to add more paint for the patina then have to much.  Start blotting the sponge onto the vase deciding as you go how much and where you want the patina.  Dip the sponge into the paint as needed.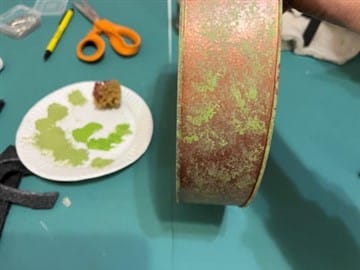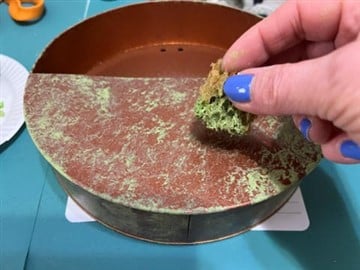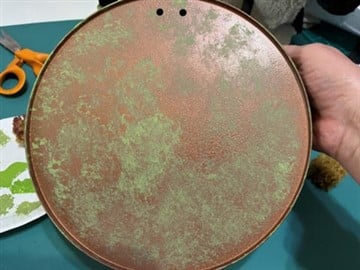 Once you have given your metal wall pocket vase it's patina you are going to seal it with the Rust-Oleum matte clear spray.
In a well ventilated area spray the back of the vase with the sealer let dry then turn over and spray the sides, front, and inside . Let dry.  I only gave the vase one coat of sealer you can do a second coat if you would like.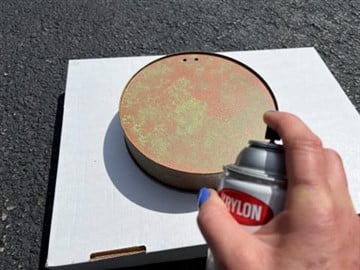 Finishing Touches
You are now ready to reattach your jute hanger and add your greens or florals!  Cut the stems of your florals and greens with wire cutters to fit into your wall pocket vase.  If you would like you can add  some floral foam in the vase but I didn't find a need for it.  Below you can see how my wall pocket vases turned out.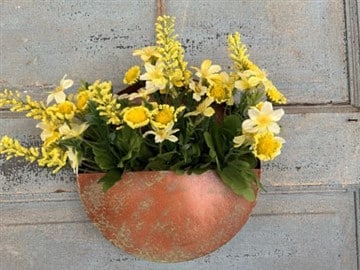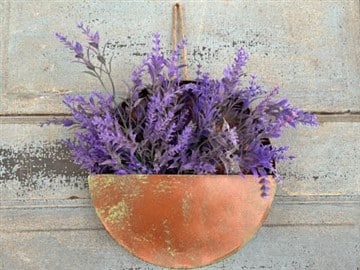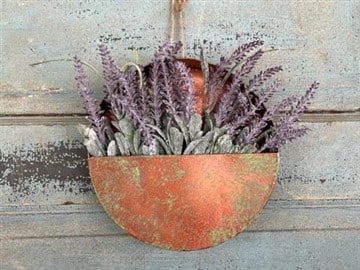 I hope you like my idea for this Dollar Tree wall pocket vase and give it a try.  They are perfect for Spring and Summer decorating and would also make a wonderful gift for a special someone!