Have you seen the large and medium plastic eggs at the Dollar Tree? As soon as seen them I knew I needed to buy them and create beautiful decorative eggs. I wasn't sure what I was going to use for the tops and my aunt suggested I use flowers. She was so right the flowers were just perfect on top of the eggs. I also got the flowers at the Dollar Tree. You will need to decide what small element you would like to put on top of the flowers I found the adorable ducks and lamb at Hobby Lobby and the bunny is from Dollar Tree.
Here is a list of what you will need:
Large Plastic Egg (Dollar Tree)
Medium Plastic Egg (Dollar Tree)
Silk Flowers (Dollar Tree)
Ribbons
Chicks, Bunnies, Lambs for the top of the eggs
Chalk Paint or Acrylic Craft Paint
Rustoleum Matte Sealer
Paintbrush
Ultra Fine Glitter (Hobby Lobby)
Hot Glue Gun and Glue Sticks
Elmer's Glue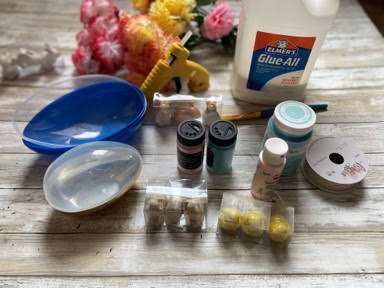 Painting and Glittering the Eggs
First remove the stickers and wash the eggs.  I used chalk paint for one set of eggs and an acrylic craft paint for the other set of eggs.  Paint each piece of the eggs let dry apply a second coat of paint.  When apply the second coat make sure you have a lot of paint on the brush I found that this helps from stopping the first coat from pealing off while painting.  Let dry and apply a third coat.  After the eggs have dried apply a coating of Elmer's glue sprinkle with ultra fine glitter let dry.  Put the eggs together then spray a coat of Rustoleum matte sealer this will help the glitter from falling off everywhere.
Adding the Embellishments
I found the cute little ducks and lamb at Hobby Lobby.  The white bunny is the ceramic bunny painting kit from the dollar tree.  You can add what ever you would like to the top of the egg.  Add hot glue to the top of the petals and glue on your embellishments.