It seems like it was just Christmas and now Easter is only a few weeks away. One of my favorite Easter items are the marshmallow peeps I can eat a whole package by myself lol. I wanted to make some bunny peeps for my Easter décor and I am just loving how these turned out. You can create them using any fabric and color you would like I even did a few prints and the Easter tie dye turned out to be my favorite.
Materials You Will Need
Bunny Peep Pattern
Fabrics of your choice
Polyester fiberfill
Sewing machine
Thread to match colors of fabric and needle
Sewing pins
Black sharpie marker
Sparkle glitter like a glass glitter
Scissors
Pinking Shears if you are gluing your peeps
Hot glue gun and glue sticks (only if you are not sewing the peeps)
Either Elmer's glue or Mod Podge
Paintbrush
Paper plate
Dixie cup
Pencil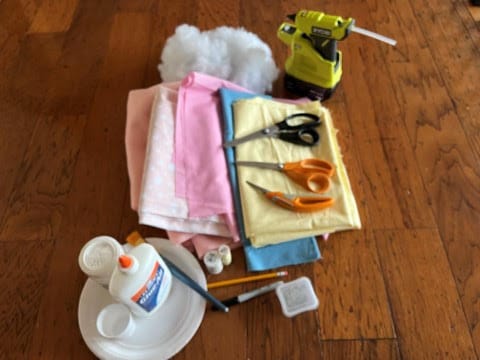 Sewing & Stuffing The Bunny Peeps
The first thing you will need to do is print and cut out the bunny peep pattern (you will find the pattern by clicking on the first line (bunny peep pattern) under materials you will need.  Once you have your patterns cut out place them on a double layer of fabric and trace with a pencil.  Next cut out your bunny peeps about a ¼" away from your trace line then pin each one with sewing pins so your fabric doesn't move while you are sewing them.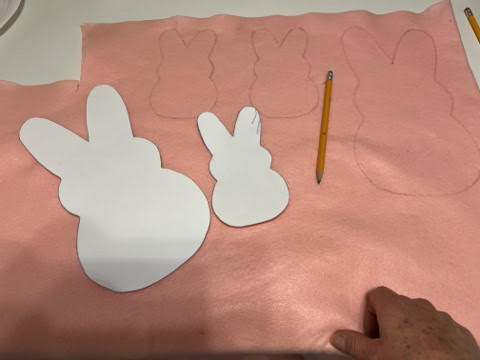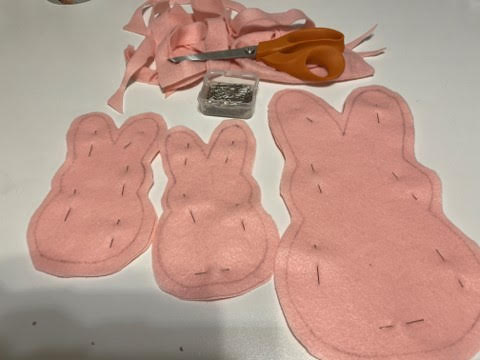 Next using the trace line as your sewing line sew up your peeps on a sewing machine making sure to leave the bottom opened where indicated on the pattern. Remove the sewing pins then using sharp scissors (I like to use a sharp small pair of scissors) clip all the curves around the bunny peeps making sure not to cut your stitches.  Turn right side out.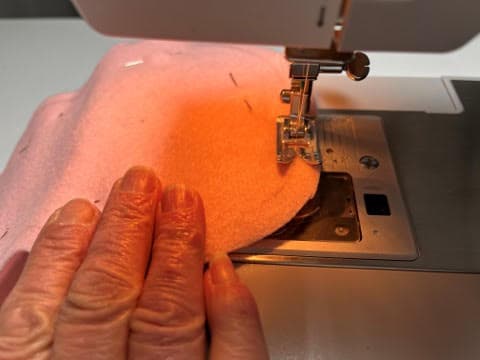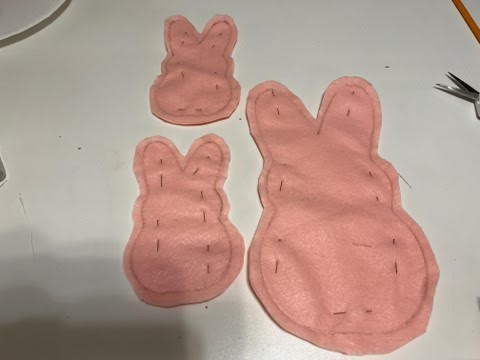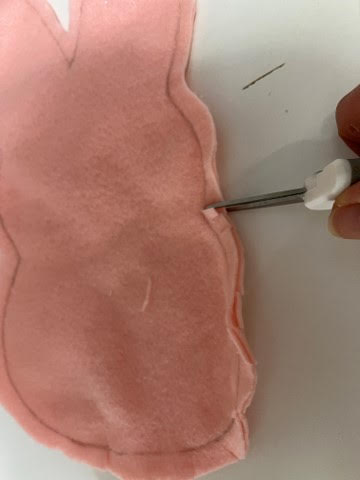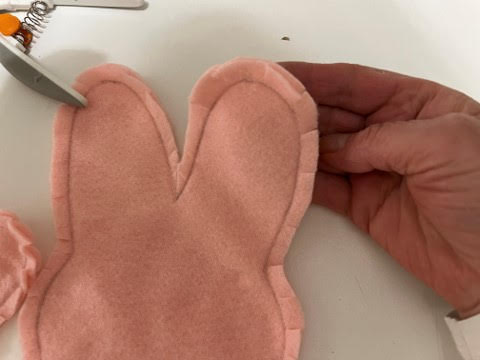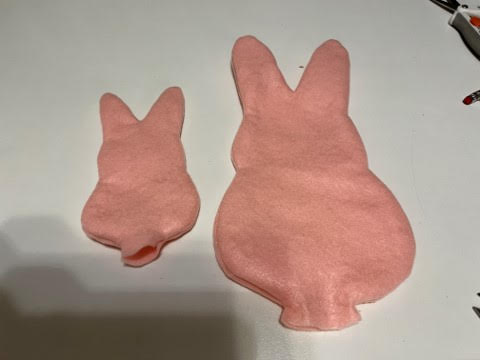 Firmly stuff the bunny peeps with polyester fiberfill, I like to use the eraser end of a pencil to push the stuffing into the peep.
Using matching thread and a needle sew your opening closed.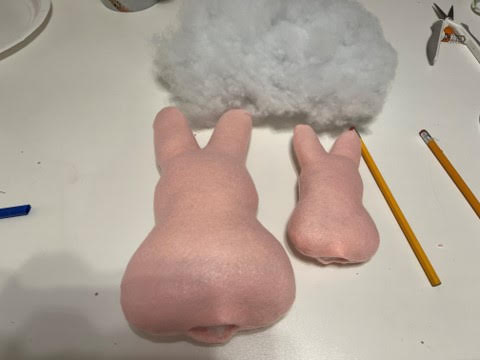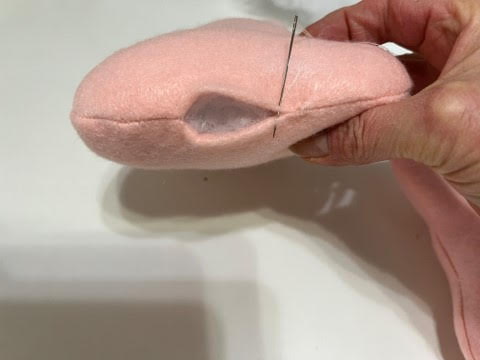 Hot Gluing & Stuffing The Bunny Peeps
Print and cut out the bunny peeps pattern.  Place your patterns onto a double layer of fabric the trace with a pencil.  Cut them out about a ¼" away from the trace line.  Separate the two pieces of fabric, lay down the piece with the trace line facing up then place the second piece on top.  Fold down the ear section of the top layer.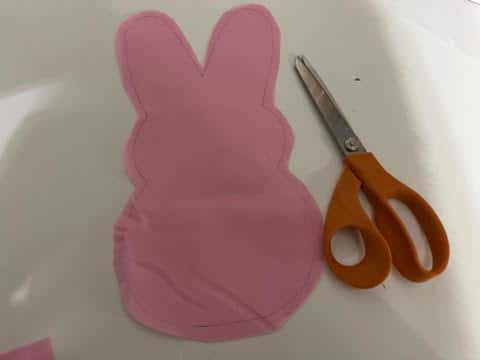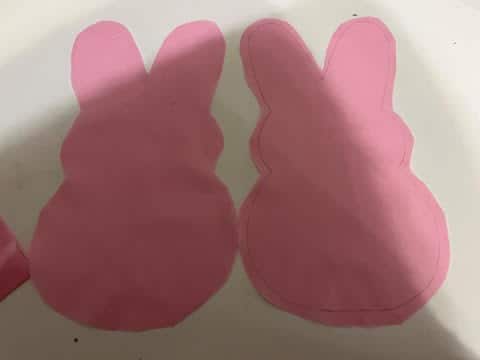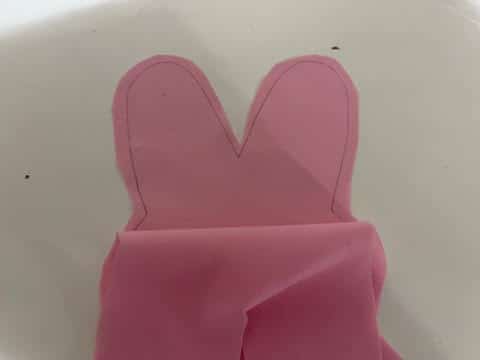 Next add a line of hot glue on the trace line around the ears then glue down the top piece of fabric.  Lift up the bottom of the top layer of fabric and continue to add hot glue on the trace line and glue down top layer of fabric. You want to only do a section at a time on both sides.  Continue gluing until you reach the bottom of the peep making sure you leave the bottom open where indicated on the pattern.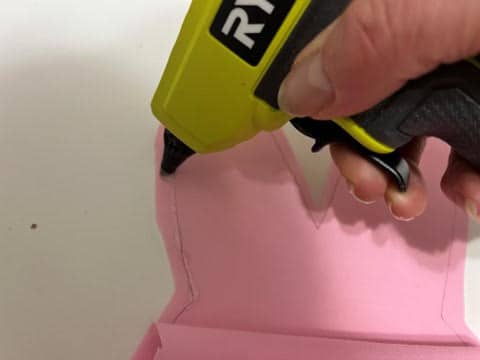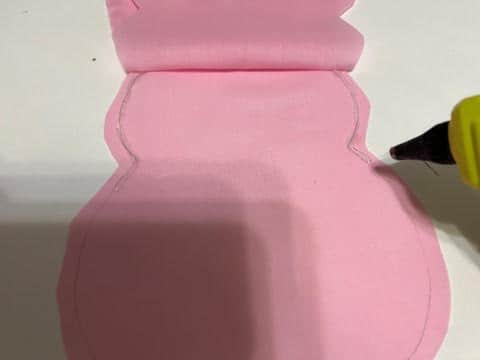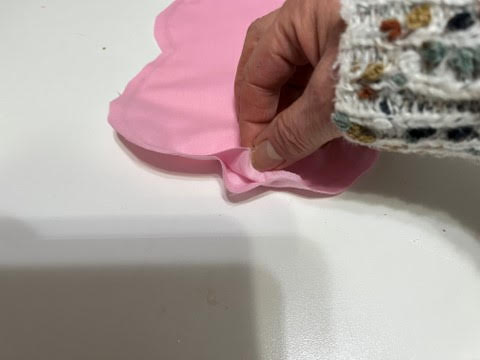 Using a pair of pinking sheers trim all around the bunny peep, close to the glue line but making sure you do not cut the glue line.  Firmly but carefully stuff your peeps with polyester fiberfill.  Add glue to the inside of your opening and glue closed.  Look at your peeps and see if you want to trim around them again with your pinking sheers.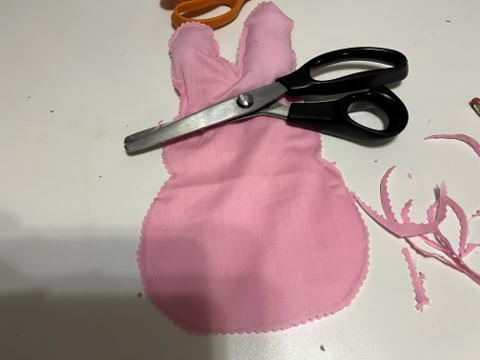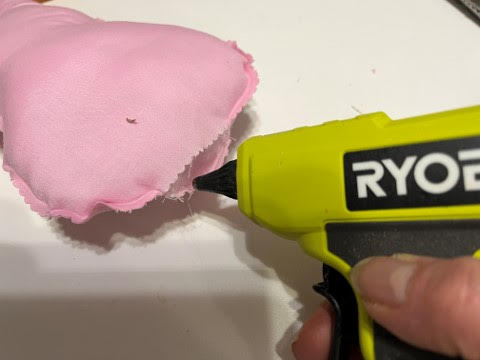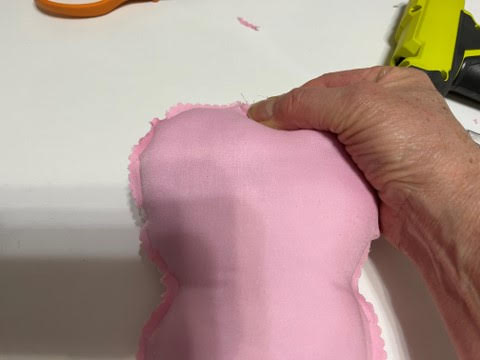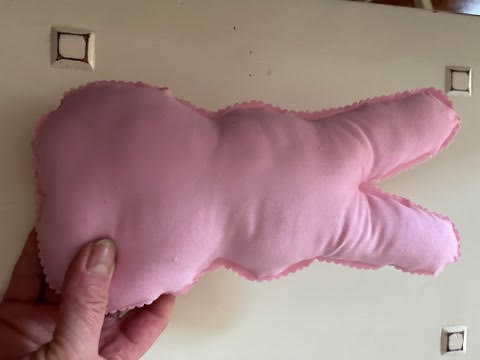 Adding The Eyes, Nose And Glitter
Using a black sharpie draw on the eyes and nose where indicated on the pattern.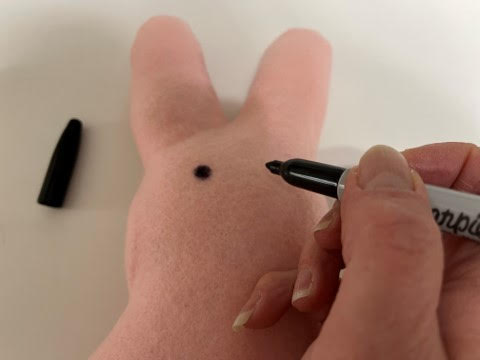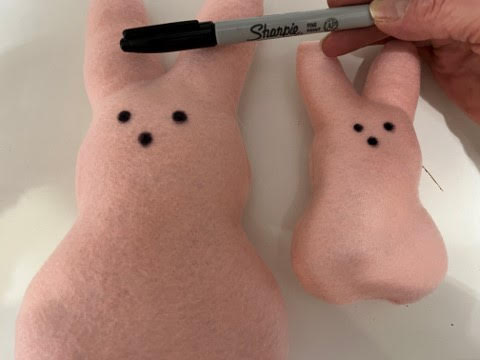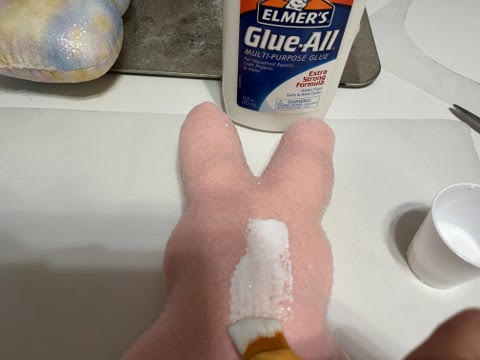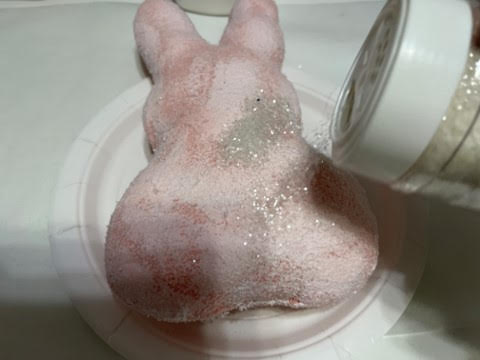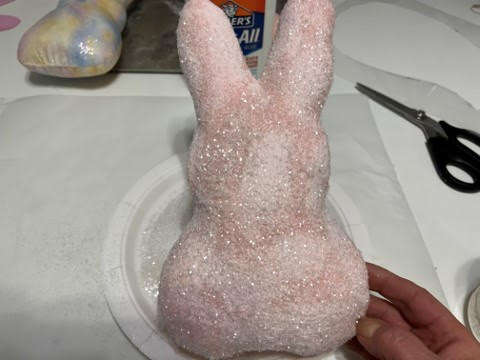 To add the glitter you can either use Elmer's glue or Mod Podge, I like to pour some into a dixie cup so I do not get all glitter in my container of glue.  Using a paintbrush cover one side of the peep with the glue then over a paper plate sprinkle your glitter covering your glue.  Let dry.  After your peeps have dried turn them over and brush with glue then cover with glitter.  Let dry.  Once  your peeps are all dried you will want to shake some of the extra glitter off.  To stop the glitter from falling off you can spray both sides of the peeps with an aerosol hairspray.
I hope you have fun making these adorable fabric bunny peeps.  Make then your own and have fun with them using all different fabrics.