If you have been following The Crafty Decorator you have seen the snowmen we made out of the wool dryer balls.I was visiting my grandchildren and looked at my son's fireplace and said I can make a wool garland for the fireplace out of the dryer balls so I ordered wool dryer balls and some 1" wool balls from amazon and made this wool ball garland my daughter in law loved and I am amazed how pretty it came out and how easy it was to make.The amount of wool balls you will need depends on the size of your mantel the mantel I made the garland for is 60".
Here is a list of what you will need:
18 Wool Dryer Balls (Amazon)
18 1" Wool Balls (Amazon)
Cotton Natural Cord
6.8" Long Embroidery Needle
Scissors
You may use more or less of both the wool dryer balls and the wool 1" balls it is going to depend how long your mantel is. If you would like to see which wool balls I used you can check out my recommended products page, I do receive a small percentage if you order from my page.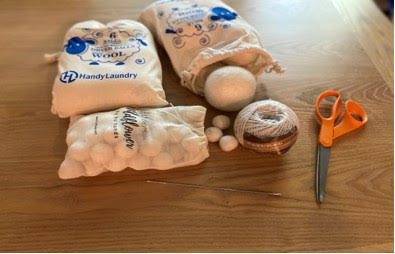 Making the Garland
The first thing you need to do is thread your needle with the natural cotton cord, you are not going to cut the cord from the roll until you have finished making the garland.  You can string on the wool balls in any order you like I am just giving you the idea and showing you what order I did mine.  After threading the needle slide one 1" wool ball onto the needle then onto the cord next slide on three wool dryer balls then three 1" wool balls, keep pushing them down the cord as you add more wool balls.  Keep adding three wool dryer balls and three 1" wool balls alternating them until you have reached the length you need then end with one 1" wool ball.  When deciding how long you will need your garland make sure you take into consideration that the garland does not go flat across the mantel you are going to scoop it, as I was making my garland I would stop after I got so far and would hold it up to the mantel so I was able to judge how many more wool balls I would need to add.
Finishing the Ends
Once you have the garland the length you want leave about 5" or so of the cording on each end, now you will cut the cord from the roll.  Next make a loop and tie and double knot at each end of the garland and cut off the excess cord.  Your garland is now ready to hang on your mantel.  My son's mantel is stone so I needed to figure out how I could hang the garland I found Christmas stocking hangers on Amazon and they worked out perfect, you can see which ones I used on my recommended products page.
I hope give this garland a try it is so simple to make and you can change it to any way you would like it you can even add wood beads instead of the 1" wool balls if you would like.