If you have been following The Crafty Decorator you know I just love decorating my Christmas tree with handmade primitive ornaments.This primitive icicle will just go perfect with all the other primitive Christmas ornaments we have made here at The Crafty Decorator, if you missed our Snowman and Santa ornaments you will have to check out my blog for them.This primitive icicle just reminds you of the olden days with its old worn look and it is so simple to make you won't be able to stop making them haha.
Here is a list of what you will need:
16 to 18 gauge wire
Warm and Natural
Wire Cutters
Paintbrush
Scissors
Ruler
Mod Podge or Elmer's Glue
Hot Glue Gun and Glue Sticks
Glitter or Mica Flakes
Paper Plate
Coffee Stain Mixture ( you can find my coffee stain recipe on my blog titled how I color and coffee stain fabric)
Coffee Stain Recipe:
2 cups water
½ cup instant coffee
2 Tablespoons vanilla
2 Teaspoons ground cinnamon
1 Teaspoon Ground Nutmeg
You can add any spices you would like I also like to add ground clove.
Bring water to a boil remove from heat add in the ingredients stir set aside and let cool.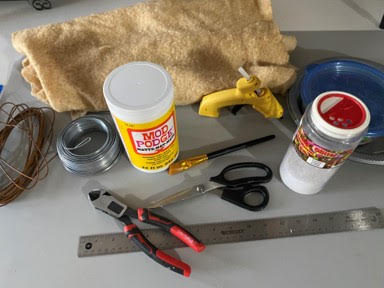 Making the Icicle
There are two sizes of the primitive icicle you can make I like making both sizes to have a mixture on my tree but that is totally up to you.  The first thing you are going to want to do is cut your warm and natural into about 1" wide strips.  My strips were about 22" long but don't worry if they are shorter or longer it is simple to add or cut off the fabric.  I like to coffee stain my warm and natural you don't have to I will leave that up to you if you would like my coffee stain recipe just look it up on my blog titled how I color and coffee stain fabric.
Next cut a 7" or 9" piece of wire depending on what size you would like to make.  Now bend one end of the wire to make a hook just about an inch or so.  Add a small about of hot glue to the end of your wire then place in the middle of one end of your warm and natural and pinch closed, see the photo below.  Now pull your fabric piece to the right and a little hot glue to the top of the fabric that is covering the wire and begin wrapping your warm and natural up the wire.  When you reach the bottom of the hook add a little hot glue to your fabric and begin wrapping back down to the bottom of the icicle.  Once you reach the bottom trim any extra fabric off then glue the fabric end down. If you run short of fabric while wrapping up and back down the icicle just add hot glue to the end of fabric and glue down then add hot glue to the end of another strip of fabric and glue right next to the end you just glued down.  Continue wrapping until you reach the bottom.
Adding the Glitter or Mica Flakes
You can either use a crystal glitter or mica flakes.  I just love the look of the mica flakes but I know a lot of people do not have them so you can certainly use a crystal glitter.  If you are interested in mica flakes I order my from Ebay it is the best price I could find for them.  To add the glitter, using a paintbrush cover all the fabric of the icicle with either mod podge or Elmer's glue then sprinkle the glitter or mica flakes all over icicle until it is all covered.  I use a paper plate under my icicle when I am covering with the glitter it is so much easier to pour the glitter back into the container with the paper plate.  Set the icicle aside to dry.
Once the icicles are dry they are ready to hang on your Christmas tree or put a few in a clear bag and give to family and friends.  Every year when they are decorating their tree with the icicle they will thing of you.